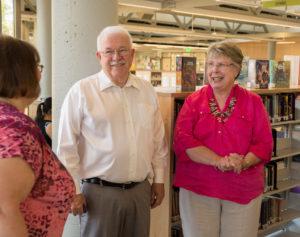 "Bird Child Travels Through History," by artist Angelina Marino-Heidel, is a mural located at the Shute Park Branch Library. The mural depicts a child in a feathered cape on a journey through time and space. Pine needles, echoing the forest outside and the leaf patterns in the library windows, create a backdrop for images from petroglyphs, cave paintings, mythology and dance from around the world. See more on this work from Hillsboro's Public Art Collection.
Here's a crossword puzzle look of Angelina at work.
Puzzle Tips
Expand your view by clicking on the Maximize button in the lower right.
Select Ghost view, then move puzzle pieces into position over the Ghost view.